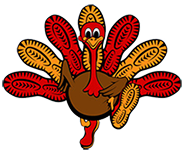 TURKEY TROT & TRIKE FUNDRAISER
November 26, 2019

Introducing the first annual Turkey Trot & Trike for SSCH Preschool! On Tuesday, November 26th, students will ride their tricycle or walk around a special outdoor "Turkey Track" as many times as they can. They will be making their very own turkey cap, adding a feather to their caps after each lap they complete. At the end of the race, the preschool will celebrate Thanksgiving with a special lunch provided by the parents.

As part of this event, the preschool will be raising funds to update the laptops and Smart Boards in each classroom, as well as to purchase a new circle time rug and shelving for a third classroom. We hope you will consider sponsoring a student. All donations are greatly appreciated!

Use this link to sponsor a student today.

Thank you for your support!